Ripple price did not begin the year on a good note, but it will not deter the price from surging upwards in the coming months. Only the bearish volatility which crept in the crypto market in July managed to pull the price of XRP coin down. The price has been moving below the baseline since then though it has been trying to recover itself at regular intervals. The price of XRP has been moving in the range of $0.24 – $0.46, as seen from the YTD price movement.
Ripple Price Analysis
XRP price has been bogged down by the bear pressure since July. The price was at $0.3669 on January 08. It went down to $0.2856 by 21.99% drop on February 02. Ripple price then began to rise and went up to $0.36019 on April 07, uptrend being to the extent of 25.88%. It again fell on May 10 to $0.2967. The bulls had made their entry in the crypto market by then, and the price of XRP was on a continual upward rally and reached $0.4692 on Jun 25 by showing a massive hike of 57.50%. With the crypto market showing bearish volatility in July, the XRP coin had tumbling and went down below the baseline to $0.2659 on August 08. With the price still being below the baseline, Ripple managed to recover to $0.3164 on September 18. With the bearish sentiment continuing, the price continued its fall and reached $0.2486 on November 20. The price of XRP today is at $0.2188, showing a negligible rise.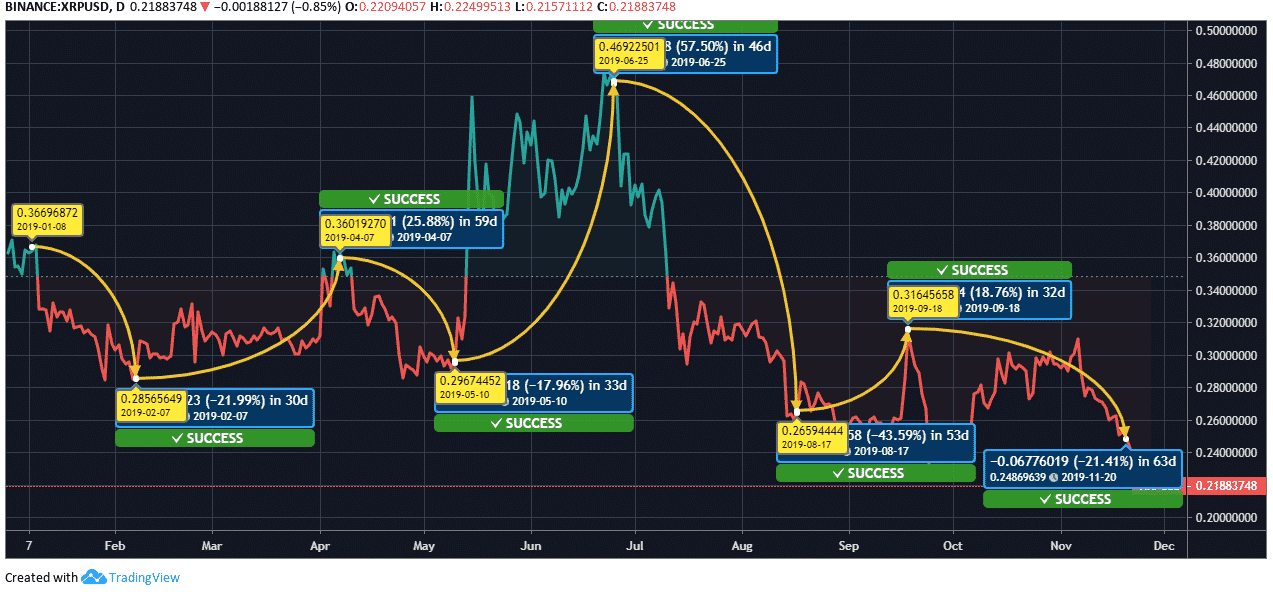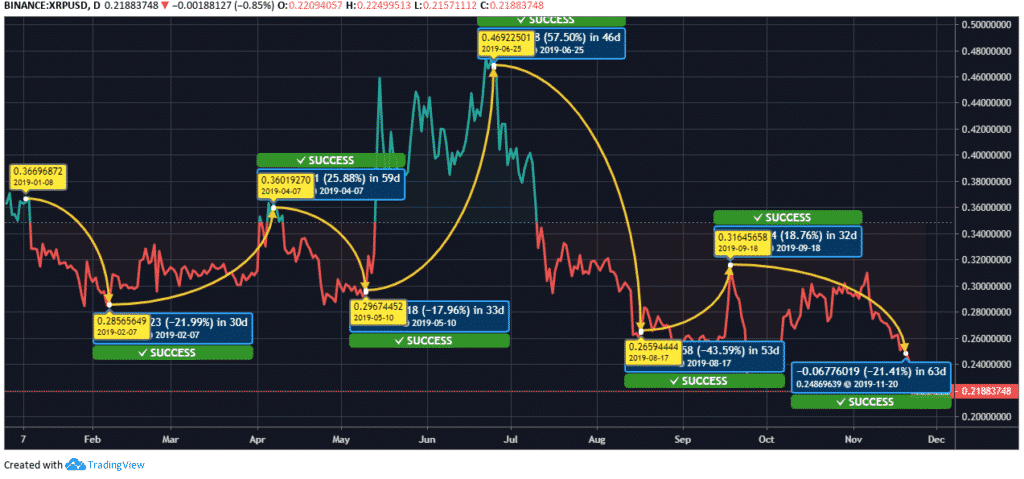 Ripple price has been caught in the bear volatility in the crypto market through the price does try to recover at regular intervals. The short-term looks bearish for the coin, but experts have confidence in the ability of XRP coin to outshine the bears as it has done in the past. They expect the coin to get back to its steady winning ways by early 2020. Investors should let this volatile period pass and wait for the crypto market stability to make gains.