The XRP price trend may take ample time to embark on price recovery.
The crypto market traders are eager to spot escalation in the coins but from the last couple of days, the coin market is ruining their dreams. Today, the regressive movement has again stroked the market as Ripple plunged to $0.205 over the last 10 hours. However, recently, the coin has started improving and is likely to hang with the same for a while.
The current price movement is speculated to improve soon. The coin is presently dealing with a market cap of $9,108,882,950 and 24 hr volume of $2,213,602,975.
XRP/USD Price Chart: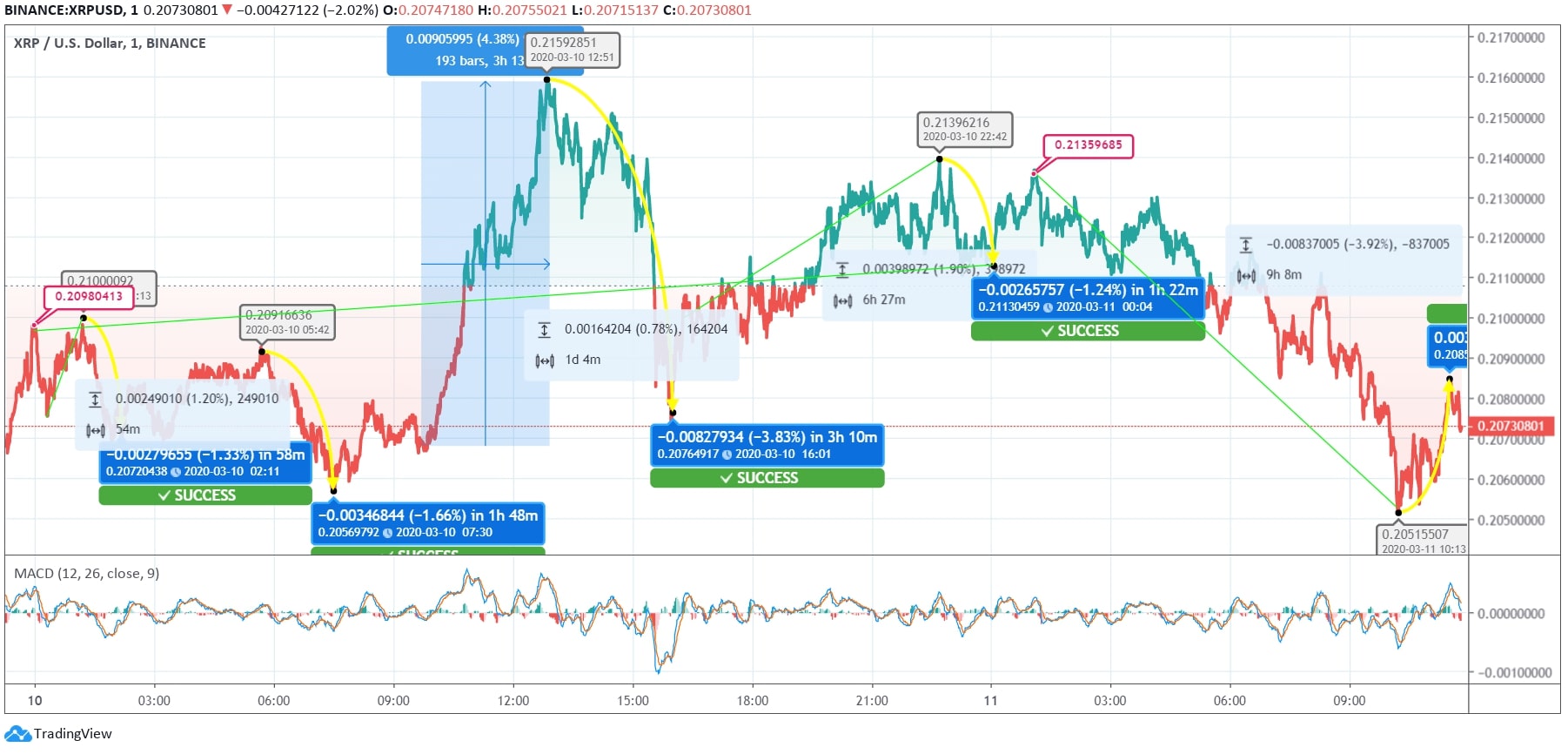 Yesterday, Ripple opened at $0.209 and within the first 30 mins, the coin plunged to $0.207. However, the coin recovered to $0.210 in the next 1 hour but couldn't hold itself and dribbled again but this time the coin touched $0.207. The price improved in the later hours and at 05:42 UTC, the coin was at $0.209. Ripple slipped to $0.205 at 07:30 UTC but the improvement was followed after the same. At 12:51 UTC, the coin escalated to $0.215 and again declined. This fall was notable as the price was at $0.207 in just 3 hours. The price improved immediately and at 16:30 UTC, the coin was at $0.210 and in the next 6 hours, the currency escalated to $0.213. The closing hour brought a plunge in the price and Ripple closed the day at $0.211. Today, Ripple started the day with a slight improvement and then it kept trading around $0.213 within the first few hours. The coin began to dribble and in the next 9 hours, the coin plunged to $0.205 before reaching $0.213. however, it corrected to $0.211 after that. Recently, Ripple improved to $0.208 and now it is at $0.207.
The signal line and the MACD line are about to collide and create a bearish crossover. The histogram of the MACD chart is already red and below the zero levels creating a bearish divergence.
Ripple is currently at $0.207 which is also the immediate resistance level. If the momentum of the coin remains regressive then the currency might be seen dribbling to the next support level at $0.202 in the upcoming hours. The closing hours of the day might see Ripple dealing around the major support level at $0.198.
R1:$0.216131 R2:$0.220026 R3:$0.2248
S1:$0.207462 S2:$0.202688 S3:$0.198793